MAFSM Representation on the Board of the Association of State Floodplain Managers
Necolle Maccherone, CFM of Michael Baker International and active MAFSM
member, was recently elected to the Board of the Association of State
Floodplain Managers (ASFPM) as Region 3 Director representing the States of
Delaware, Maryland, Pennsylvania, Virginia, West Virginia, and the District of
Columbia.
MAFSM has been a state chapter of ASFPM since 2006. ASFPM is a national
organization of professionals involved in floodplain management; flood hazard
mitigation; the National Flood Insurance Program; and flood preparedness,
warning, and recovery. ASFPM represents flood hazard specialists of local,
state, and federal government; the research community; the insurance
industry; and the fields of engineering, hydrologic forecasting, emergency
response, water resources, and others. Its mission is to promote education,
policies, and activities that mitigate current and future losses, costs, and
human suffering caused by flooding, and to protect the natural and beneficial
functions of floodplains.
Part of Necolle's responsibilities is to learn the interests and concerns of
regional members and state and local officials in Region 3. She can be
contacted at Necolle.Maccherone@mbakerintl.com.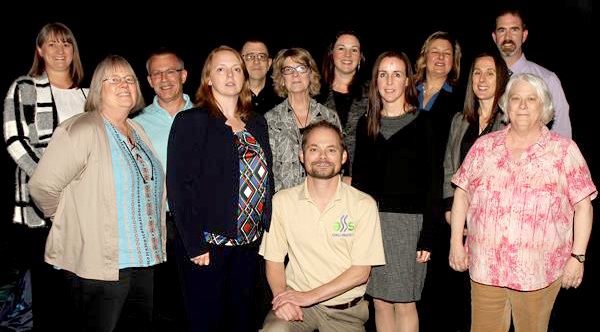 ASFPM 2017-2018 Board of Directors
From left to right: ASFPM District 3 Chapter Director Tara Coggins (MS);
District 1 Chapter Director Janet Thigpen (NY); Region 5 Director Rod
Renkenberger (IN); Chair Maria Cox Lamm (SC); Region 7 Director Steve
Samuelson (KS); Region 9 Director Jeanne Ruefer (NV); Region 4 Director Del
Schwalls (FL); Region 6 Director Jessica Baker (TX); Treasurer Amanda Flegel
(IL); ASFPM Deputy Director Ingrid Wadsworth; Region 3 Director Necolle
Maccherone; Vice Chair