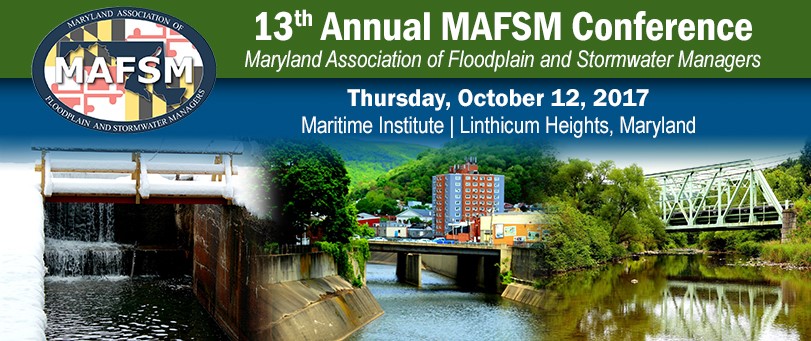 Photos courtesy of AMY STONEBREAKER photography of Oldtown, Maryland
You are invited to the 13th Annual MAFSM Conference on Thursday, October 12th, 2017 at the Maritime Institute in Linthicum, MD. Registration just opened so you can register now!
 OVERVIEW
MAFSM draws attendees from local, state, and federal government as well as the private sector from throughout Maryland, attracting over 150 engineers, planners, water resource professionals and NFIP Coordinators, annually.
This year's conference will features a keynote session, vendor exhibits, optional floodplain management training and packed agenda with over 25 technical presentations. Draft schedule will be available soon.
SPONSORSHIP OPPORTUNITIES
We also have several opportunities for sponsors and space for exhibitors.
SCHOLARSHIP
MAFSM supports the education of its members by offering up to 10 conference scholarships/association memberships to its 13th Annual Conference.
These scholarships are aimed towards community officials who would not otherwise have an opportunity to attend the conference and who would benefit greatly by implementing lessons learned upon their return to their communities. Those who are presenting increase their chances of being selected for the scholarship, however presenting is not a requirement to apply.
For information on how to apply please visit our scholarship page here.
FLOODPLAIN MANAGEMENT TRAINING
In addition to the conference we are also hosting a pre-conference Floodplain Management Training on October 11th for $50. Space is limited so if interested sign up for that with your registration!
​
To find more information on the conference and to register for the conference click here.