MAFSM holds an annual conference to highlight advancements and issues within the flood plain and stormwater management community and allow for networking opportunities of those involved in this field. Individual conference pages can be accessed from the navigation menu and will allow you to view brochures, agendas, presentations and other information from each respective conference.
We are now accepting abstracts for the 13th Annual MAFSM Conference, taking place on October 12th, 2017 at the Maritime Institute in Linthicum, MD.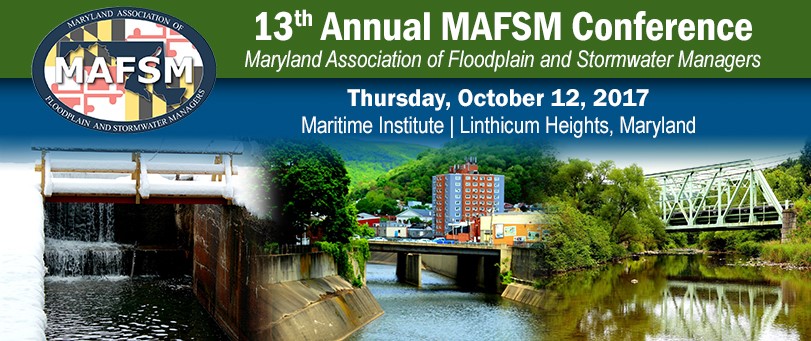 Topics geared towards stormwater and floodplain management in Maryland or other areas within the U.S. will be considered. Submitted abstracts should be 500 words or less. Standard speaking slots are for 30 minutes, including time for questions. For longer workshop/panel proposals, please contact the Programs Chair directly at Necolle.Maccherone@mbakerintl.com.
A speaker's biography of 200 words or less must also be submitted for the primary speaker. Presentations are selected at the discretion of the Program Committee. Selected abstracts are to be presented in person on October 12, 2017 and all speakers are responsible for registering for the conference.

Presentations will be accepted in the following subject areas:
– Floodplain Management/Mapping
– Stormwater Management
– Mitigation
– Climate Change
– Outreach
– Other
Deadline to submit your abstract is June 26th.